CHARLOTTE'S TOP-RATED LOCAL® DENTAL OFFICE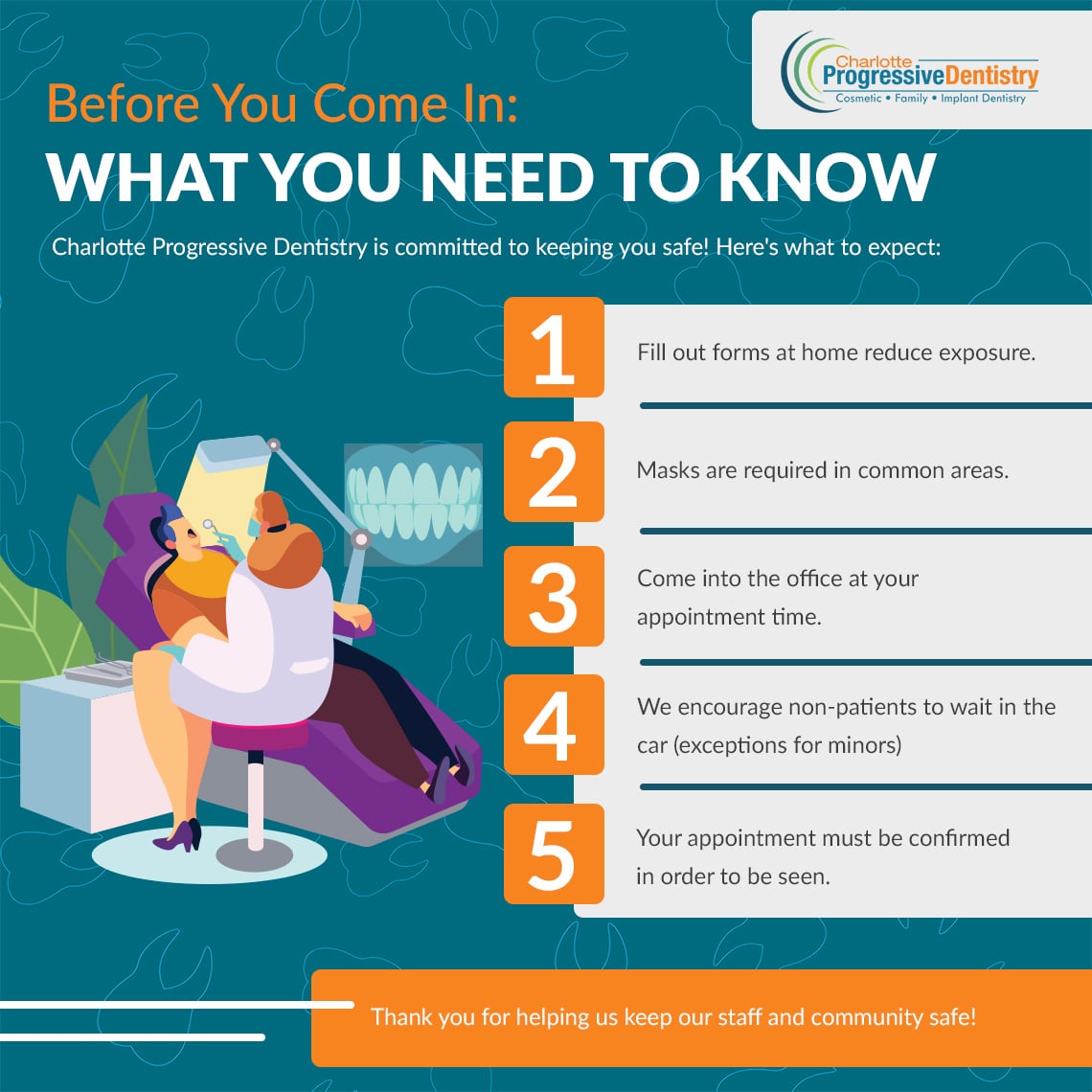 Dear Valued Patient,
We have exciting news! While keeping our commitment to the safety of our patients and employees, we are happy to announce that we are fully staffed and fully vaccinated!
PATIENTS – Things you need to know prior to your appointment:
You will be asked to fill out forms at home to reduce exposure.
We are requiring masks for everyone while walking in our common areas, as not all patients being seen are vaccinated.
We ask that you come up to the office at your scheduled appointment time. We encourage family members or those not being seen to wait in the car unless the patient is a minor.
You must confirm your appointment. If you do not confirm your appointment, your appointment will be cancelled due to the high volume of patients waiting to be seen.
Please know that the precautions we already take every day to prevent the spread of infection in our practice also helps prevent the spread of COVID-19. In addition to our normal practices, we have decided to implement additional  precautions such as, taking travel histories, providing hydrogen peroxide solution to rinse prior to procedures since the virus seems to be affected by it, as well as installing new medical grade air treatment units throughout the office.
If you are ill with flu-like symptoms, you should reschedule your appointment.
If you or someone you are in close contact with have recently traveled to one of the countries with large outbreaks of COVID-19 or if you have been exposed to someone else who was diagnosed with COVID-19 or who was quarantined as a precaution, wait 14 days until you see your dentist to make sure you have not caught the coronavirus.
We appreciate your understanding during this time and we look forward to serving you!
Sincerely,
Charlotte Progressive Dentistry