CHARLOTTE'S TOP-RATED LOCAL® DENTAL OFFICE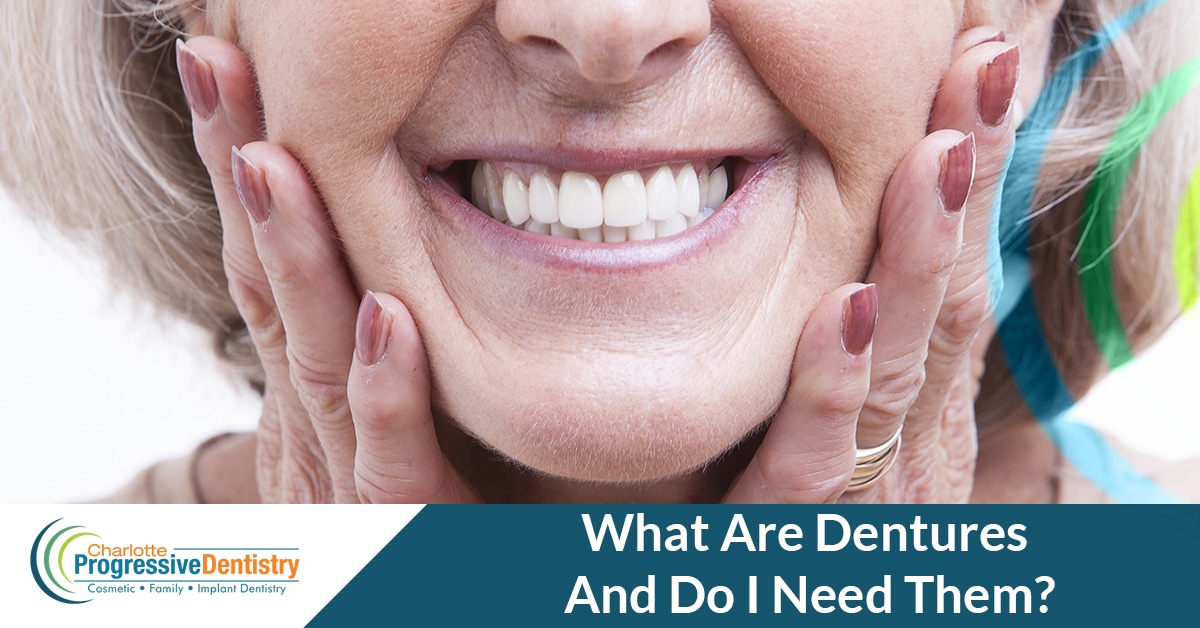 What Are Dentures And Do I Need Them?
Most people think that dentures are only for senior citizens, but the reality is, people of all ages get dentures every day. Dentures are a great way to replace missing teeth and restore your smile, so if you're a victim of things like gum disease, tooth decay, or a mouth injury, dentures may be a wonderful option for you.
At Charlotte Progressive Dentistry, we specialize in the installation of dentures, including complete dentures and partial dentures (which we'll get into in a bit). In this article, we're going to dive deeper into dentures and who may be a good candidate for this dental treatment.
What Are Dentures & How Do They Work?
This is a question we receive often at our Charlotte dental office. As we mentioned above, dentures are an easy way to improve your smile, while also improving your quality of life when it comes to things like speaking and eating. Dentures can have a tremendous impact on your facial appearance as well, since they can be used to support facial muscles.
People who suffer from missing teeth may feel a low sense of self confidence when it comes to their smile, which is where dentures can be a great solution. There are many benefits to denture implants, including:
Dentures can boost your self esteem, creating a smile that you're proud of.
Dentures will provide you with a better quality of life when it comes to speaking, eating, and smiling.
Dentures can encourage better nutrition since you won't have to restrict certain foods from your diet that you can't chew.
Let's take a look at some common denture options below.
Conventional Or Full Dentures
Full dentures often feature a flesh-colored acrylic base that fits snugly over your gums. The upper denture covers the palate of your mouth, and the lower denture emulates a horseshoe shape to accommodate your tongue's placement. This type of denture is ideal for patients who have lost all of their natural teeth.
Partial Dentures
As you may have been able to guess, partial dentures are a removable appliance that can be used to cover up missing teeth. The appliance consists of artificial teeth that are attached to a gum-colored plastic and acrylic base. Partial dentures are available for both the upper and lower jaw, and they can be unclipped and removed at a moment's notice.
Implant Dentures
If you suffer from multiple missing teeth, you may qualify for implant dentures. These dentures are available in both full and partial options, and your dentist will be able to recommend the best option for you. These dentures are unique because they are supported by dental implants. During this dental procedure, small titanium posts are embedded into the jawbone before the denture is attached to the implant.
Immediate Dentures
If your dentist has recommended that all of your natural teeth should be removed, they may be able to insert immediate dentures into your mouth as soon as they remove your natural teeth. This means you won't have to sit in an awkward waiting period with missing teeth, which is never a bad thing.
Do Dentures Take A Long Time To Get Used To?
New dentures may feel somewhat uncomfortable at first, but after a few weeks (and sometimes months), you'll start to feel normal again. Consuming food and beverages may be a challenge in the beginning, but with a little practice, you'll get the hang of it in no-time. As your mouth, tongue, and cheek muscles become accustomed to the dentures, you may experience the following symptoms:
A bulky or loose feeling, like the dentures will fall out of your mouth.
Excessive saliva production.
Soreness in the mouth.
The feeling that your tongue doesn't have enough room in your mouth.
How Do I Care For My Dentures?
While your dentures are made to withstand a variety of forces, it's important to remember that this appliance is fragile. To keep your dentures in pristine shape, you should remove them from your mouth and brush them on a daily basis. There are a variety of toothbrushes out there that are specifically designed for cleaning brushes, so you may want to do your research before pulling the trigger on any old toothbrush. Try to avoid using abrasive cleansers and toothpastes, as these can scratch the surface of your dentures. If you accidentally break, chip, or crack your dentures, reach out to your local dentist right away.
Dental Implants At Charlotte Progressive Dentistry
As a leading provider of dentistry in Charlotte, North Carolina, the dental professionals at Charlotte Progressive Dentistry are committed to helping you achieve the smile you've always dreamed of. We offer modern dental treatments at our state-of-the-art dental office to help maintain and repair your teeth and gums in a stress-free and friendly atmosphere. Whether you're in need of dentures, a root canal, or professional teeth whitening, we can help.